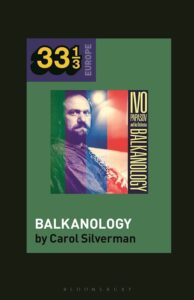 by Carol Silverman
Romani clarinetist Ibryam Hapazov was forced to change his name to Ivo Papazov in the mid 1980s as part of the Bulgarian socialist government's policy that targeted Muslims (Turks, Roma, Pomaks).
Romani and Turkish music, dress, languages, customs (such as circumcisions and calendrical holidays) were all prohibited. Ibryam/Ivo, as well as Yuri Yunakov (birth name Husein Huseinov), and other famous musicians went to jail for performing the Romani genre kyuchek.
This book chronicles four decades of Bulgarian wedding music. "The book is part of Bloomsbury's 33 1/3 series that focuses on significant albums, their history and their impact," the author says. "I chose the album Balkanology because it has become a classic, because it crossed over to world music audiences and because I was able to revisit the liner notes I wrote back in 1991."
Published by Bloomsbury, available in paperback or ebook for $16.52 (website pricing), or hardback for $72 at Bloomsbury.com.