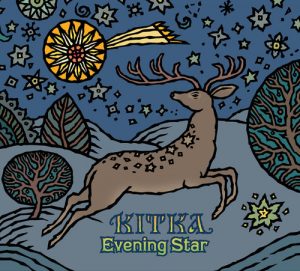 Now celebrating its 39th season, Kitka is an American women's vocal arts ensemble inspired by traditional songs and vocal techniques from Eastern Europe. Dedicated to developing new audiences for music rooted in Balkan, Slavic, and Caucasian women's vocal traditions.
Kitka's material ranges from ancient village duets to complex choral works, from early music to contemporary theater. Kitka performs a capella as well as with instrumental musicians.
Their latest release, Evening Star, includes 22 pieces inspired by the winter season. This collection features songs sung in Bulgarian, Russian, Romanian, Georgian, Yiddish, Latvian, Serbian, Ukrainian, Mingrelian, Svan, Laz and Greek.
Kitka members include Shira Cion, Janet Kutulas, Kelly Atkins, Caitlin Tabancay Austin, Erin Lashnits Herman, Kristine Barrett, Hannah Levy, Lily Storm, Natalie Bartlett, Corinne Sykes, Michele Simon, Barbara Byers, Briget Boyle, Juliana Graffagna.
Preview, then download or order Evening Star here