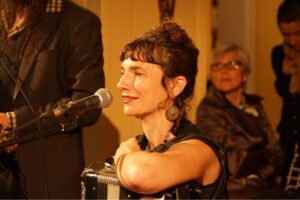 Location: New Orleans, La.
Occupation: Most of my work revolves around music. I perform regularly with multiple groups, lead bands, organize events, teach lessons, and do some sound engineering work. Additionally, I work part-time at a local apothecary as a clinical herbalist, working with clients, teaching classes about herbalism, and managing the tincture department of a local herb shop here in New Orleans.
Connection to Balkan music/dance: Most of the groups I perform with are Balkan-focused. I play accordion and sing in the band Blato Zlato. I direct a women's polyphonic choir called Trendafilka.  I play trumpet with a couple of brass bands, mostly around Mardi Gras, that incorporate some Balkan tunes into their repertoire, and I play accordion with a couple of Yiddish and klezmer groups. In an average week, the majority of my evenings are booked with gigs and rehearsals centering on Eastern European music.
Number of times at Balkan camp: I've been to Balkan camp a few times now: my first experience was at Mendocino in 2012, then Iroquois Springs in 2017, and now Mendocino in 2019. My first camp experience in 2012 really influenced the path that my musicianship has taken today, and it was really special to revisit the same community seven years later with a lot more experience under my belt!
Studied at camp: I'm always looking to learn something new at camp; I try to push myself to learn a new instrument or style I might not otherwise have exposure to. It's an incredibly special opportunity to have access to bilingual teachers who are rooted in Balkan traditions, and I try to take advantage of that at camp. Since I already sing and play accordion professionally back home, I've spent the last two camp experiences pushing myself to learn to play gajda!
Like many people in this community, I was hugely influenced by Vassil Bebelekov when I first met him: if it weren't for his warmth, humor, and pouring rakija into my coffee every morning class, I don't think I would have ever gotten into Bulgarian music. When I signed up for camp in 2017, it was with the express purpose of studying gajda with Vassil, but fate had it that I missed him by a couple weeks. In his stead, Susan Anderson took me under her wing for the week like a fairy gajda godmother. She sat by my side all week and encouraged and nagged as necessary. She even lent me a gajda of hers for the year. Still, I slacked. It's hard to be an adult beginner! This year, Ivan Varimezov's patience, understanding, and humor really helped me have a breakthrough with the instrument. I think at this point I owe it to all three of my teachers to stick with it throughout the year.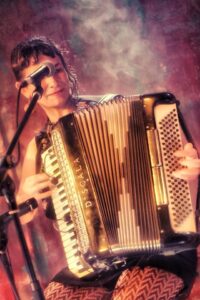 Memorable moment at camp: I arrived at camp with a vocal injury that had occurred the previous week on tour with my band, which thwarted my plans to participate in singing classes. Aware that teachers often get inundated with personal problems and questions outside of class, I wanted to be respectful of their free time and hesitated to approach any of them with my problem, yet I was pretty freaked out as I had three more weeks of tour coming up—in Bulgaria, no less. Toward the end of the week I worked up the nerve to ask Tzvetanka [Varimezova] if she could spare a minute. I described to her what I was experiencing and how I wouldn't be able to see a specialist as I was flying to Bulgaria the day after camp. Her response was one of full concern and empathy, and she immediately gave me her address and phone number in Bulgaria, as she was also flying to Sofia at the end of the week, and made me promise to meet up with her as she emphatically wanted to help me find a doctor.
True to her word, Tzvetanka showed up at my apartment her first morning home in Sofia, took me to the hospital, and searched the entire complex relentlessly for the throat specialist famous for his work with many well-known vocalists. When we finally found the office we were greeted warmly by the doctor with "Ahhh! Tzvetanka! I haven't seen you in 20 years! Welcome back! What can I do for you?" Tzvetanka negotiated and translated through the entire examination—no easy feat when it comes to medical terminology!—and we were out of there quickly with a diagnosis, prescription, and a very low fee. I was so grateful and honored that the very woman who so generously taught me how to find my voice many years ago at Balkan camp took her responsibility as a mentor so seriously as to carry it not only beyond the classroom, but halfway across the world!