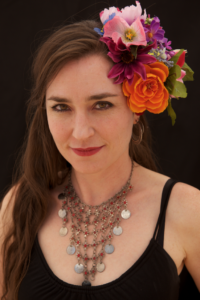 Location: Santa Fe, N.M.
Occupation: I am a performing and touring musician (mainly singer, as well as violinist), and I teach singing and music privately at the United World College and other schools. I am also a studio musician and have worked in several independent recording projects in recent years.
Connection to Balkan music/dance: I make and teach music every day as a musician and a teacher of music. My specialty (and the majority of what I teach) is Balkan, as well as Turkish and Ukrainian vocal music, expanding out from there. I teach vocal technique as well.
I work to not only create music which speaks to people, as well as an opportunity for vocalists to access and support their unique voices, but also to create a community built around music and dance in my home state of New Mexico and beyond. I've been delighted (and almost surprised) by what an appetite there is for music from this part of the world in Santa Fe, and there is a growing "scene" here, much of which involves projects in which I participate. I am also still active in my New York trio, Black Sea Hotel. We are in the midst of creating our next album as I write. I travel to NYC five or six times a year to work intensively and tour with them.
I am a member of:
Black Sea Hotel Balkan vocal trio (NYC-based): blackseahotelusa.com
I am the director of Sevda Choir (Santa Fe-based mixed choir singing vocal music from Eastern European, the Black Sea, the Mediterranean, and beyond): facebook.com/SevdaChoir/
EVET (Santa Fe-based band which plays music of the Balkans, Turkey, Greece, the Arabic world): evetmusic.com
Rumelia Collective (Santa Fe-based Balkan quartet): rumeliacollective.org
Zozulka (Ukrainian vocal trio): zozulka.bandcamp.com
Number of times at Balkan camp: My first time at camp was in 2003. That was Mendocino. In 2005, I moved to New York City, but came back to the West Coast camp in 2007. After that, I attended the East Coast camp several times. I returned to New Mexico in 2014, and had my child in 2016, so hadn't been able to attend camp until this last summer. It was a delight to be back!
Studied at camp: My main focus is always vocal. I sing Bulgarian and Macedonian music, as well as other styles, professionally in several ensembles, and camp has been instrumental in the development of a variety of styles for me over the years. I take every vocal class that I can, particularly Tzvetanka's Bulgarian, Christos' Greek, and Merita's Albanian. I try very hard to make a space for violin as well, but it doesn't always work with the packed schedule. This year I also got to take the one-time "Dance for Musicians" class [with Michael Ginsburg]. That was really fun.
Memorable moment at camp: I had the honor and delight to be part of an auction item which was that singers from various ensembles including Kitka, Yale Slavic Chorus, Sevda Choir, and others, would band together and sing beloved choral pieces for the lamb roast line as it went by. It was so meaningful, and fun, to finally have the chance to sing with (and get to know better) all of these great singers. I felt really connected to people from all over the place. And, my heart overflowed to have the opportunity to share this thing that I love so dearly, and that is at the center of my existence, with the community, with my teachers, with friends. This is what I'm talking about when I say building community—the music connects people with each other so directly, there's a real power for goodness in that, and that really feels like my sustenance in this world. I know it sounds obvious, but it makes my heart sing, in the truest sense.
(Photo: Sam English)