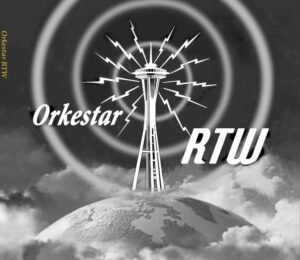 After 33 years of being a staple in the Balkan music and dance scene in the Seattle area, Orkestar RTW has recorded a CD.
The five-piece band started in 1987 as the house band for the Radost Folk Ensemble. Named in the tradition of post-World War II Balkan radio and television house bands (such as Orkestar Radio-Televizije Beograd), Orkestar RTW (Orkestar Radio-Televizije Washington) plays the music of those bands, primarily traditional dance and folk music from Bulgaria, Macedonia, and Serbia. Read more at www.orkestarrtw.com.
Tim McCormack - drums; Ronald Long - accordion; Teodora          Dimitrova - vocals, tambura; Jana Rickel - bass, vocals; and Steve Shadle - clarinet/vocals.
Stream or purchase the digital album ($10) at orkestarrtw.bandcamp.com/album/orkestar-rtw. For a physical CD, send an e-mail with your address to orkestar.rtw@gmail.com, and PayPal $15 to that same address. Shipping and sales tax are included.