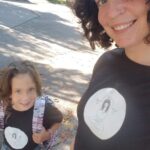 Location: Kingston, N.Y.
Occupation: I'm the Manager of the Kingston Farmers Market, and founder and councilmember of the Kingston Food Coop.
Connection to Balkan music/dance: I play in a Balkan band! Max's New Hat is an electro-Balkan band that puts a funky spin on songs from throughout the Balkans and beyond, including Macedonia, Albania, Bulgaria and Turkey.
Number of times at Balkan camp: This was my first full week at camp! I came the last two years for a day—and last year my daughter, Magnolia, came with me for a day. We both fell in love and decided as we were driving away that we would come for a whole week this year. We are so glad we did!
Studied at camp: I mainly took singing classes – with Mensur Hatić, Merita Halili and Eva Salina I also did Bulgarian dance (first period, a great way to start the day!) with Petur Iliev. Magnolia was in kids' camp, and played doumbek in the kids' ensemble. She also picked up the violin during camp, and is now taking violin lessons in anticipation of camp next year!
Memorable moment at camp: It's so hard to pick just one! As a parent, I loved that the children (Magnolia is 7) could be so independent at camp. They ran free, got themselves to and from their classes, and everyone looked out for each others' children. It really contributed to the feeling of community and gave new appreciation for the saying, "it takes a village."
As a musician, I was so honored to spend time with, learn from, and perform with some of the great teachers in Balkan music. I loved walking across the field after dinner and stopping by the porches of the new friends I'd made for a chat, a Turkish coffee, or to hear them play in some newly formed ensemble. The sense of community is unparalleled!
Magnolia says: "It was really cool to see the older kids playing their instruments!"