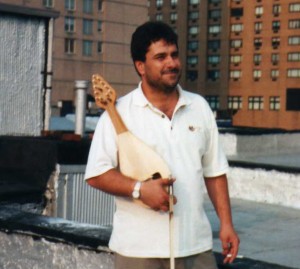 Georgi "Bai Georgi" Petrov, master gudulka player and instructor at EEFC Balkan Music & Dance Workshops, died on February 17, 2014, in Vidin, Bulgaria, after a two-year struggle with brain cancer.
Georgi was born in 1962 in the village of Sinagovtsi, near Vidin in Northwestern Bulgaria, near the Danube River. His father, Jordan "Siki" Todorov, is a renowned kaval and duduk player from Sinagovtsi; his mother, Vasilka, met her future husband when he was serving a residency leading a folk ensemble in the village of Osenovo, near Blagoevgrad, in the Pirin Macedonia region of Bulgaria. It seems natural that Georgi would immerse himself in the folk music world, and indeed he had a precocious beginning, winning a gold medal at the age of 7 for playing gudulka at the Koprivštitsa national summer folk festival. His high school years were spent at the Pleven music school, and he went on to college at the Plovdiv conservatory. It was here he began composing and later recording with the Bulgarian National Radio folk orchestra. In 1990 he became concertmaster of the Radio orchestra, which was attached to the Philip Koutev National Ensemble for Folk Song and Dance. In the years following, Georgi played with Ensemble Trakija and the Bisserov Sisters, with whom he toured Europe, Japan and Canada; as well as with the women's chorus Angelite.
A highlight of Georgi's life came when he was tapped to join the music and dance extravaganza  Riverdance in 1996 for a five-year stint. (The author remembers fondly her first meeting with Georgi in 2002, when she observed that his excellent English was tinged charmingly with an Irish brogue.) Riverdance heightened Georgi's fame and led him to further collaborations and adventures, including several summers at Ross Daly's Labyrinth Musical Workshop on Crete, where he taught seminars in Bulgarian folk music and improvisation.
Under the patronage of gajda player Vassil Bebelekov, who was his longtime friend and kum (best man at his wedding and godfather to his children), Georgi came to the States in 2002 to attend the balkanalia! workshop in Portland, Ore. He returned in 2003 to tour with Grupa Maistori, which included Georgi, Vassil, Nedyalko Nedyalkov, Nikolay Georgiev, Angel Dimitrov and Ivaylo Koutchev. Along with producing a self-titled CD, the band attended and taught at both Balkan Music & Dance Workshops that summer. Georgi returned to the Workshops in 2005, where he executed masterful performances in the late-night kafanas that people still recall.
In May of 2012, the village of Sinagovtsi celebrated Georgi's 50th birthday in grand style. It is unknown how many people knew that he'd found out shortly before that he had cancer. When, sometime later, news of his illness reached across the Atlantic, Georgi's American friends and admirers rushed to his aid, putting on benefit concerts and collecting money for his medical care and surgery. Similar efforts were carried out in Bulgaria, both by the municipality of Vidin and by friends on Facebook. Despite an optimistic prognosis after a surgery to remove his tumor in June of 2013, Georgi's health declined drastically at the turn of 2014.
We who were lucky enough to know him remember Bai Georgi for his robust character and for the equally robust, life-affirming music that spun effortlessly from his fingers and bow. As the Bulgarians say, neka e svetla pametta mu (may his memory be bright).