Well, how do you care for your folk costume? First of all, we are assuming that this is a costume you wear to dance or perform in, not a museum-quality piece that you intend to preserve for posterity. Unless you made the costume yourself and prewashed all the components, you cannot be certain how it will react to washing or dry cleaning, but you want to keep the costume clean and dust free. So here are a few guidelines.
Fabric in folk costumes can generally be broken down into three groups—animal/protein, vegetable and manmade. Wool and silk are in the first group, linen/hemp and cotton in the second, and rayon/acetate and polyester in the third. You need to treat each group differently AND be aware that your trim or embroidery may not be the same fiber. If you live near a museum or university that houses a textile collection you can find out what dry cleaner they use. Searching out a dry cleaner yourself is a matter of finding one that is willing to work with you and preferably has the plant on premise. If you don't have that resource available or choose not to dry-clean, it is possible you can hand wash the costume yourself. Do be aware that once you use water, you cannot undo any of its effects. If the piece is a blend of fabric, treat it according to the least hardy component.
Test for colorfastness first. Pick an inconspicuous area of the garment, put several folded white paper towels under the area you're checking. Dampen the area with cold water, put several folded towels on top and place a weight on top. Check the towels at 5 minutes and again at 15 and 20. Any color on them means the piece is NOT colorfast. Also do this check on any embroidery or trim. WARNING—wetting silk or acetate/rayon material can stain the fabric itself!
If you pass the colorfast test, you can attempt washing. Do it in a large flat basin with lots of cold running water—your bathtub or shower. Start with a plain cool water soak and rinse until the water runs clean. If needed, you can wash again with a translucent dish washing soap such as Dawn (avoid the milky lotion kind). You can also use Synthrapol or Orvus. Do NOT ever use a commercial laundry product, as many of them have bleaching agents and they are alkaline, which is bad for wool and silk. Again, rinse until the water runs clear. DON'T EVER use any kind of chlorine bleach or enzyme on wool or silk. It will eat the fabric.
To dry your costume, remove excess water by rolling the costume in dry towels and gently squeezing. A clean chamois-type towel will work well. Finish drying your costume spread out flat on towels if it's heavy. You can flip the costume from front to back to speed drying. If it's lighter, you can use a plastic hanger—never use metal or wood as they may stain the fabric. It may take several days to dry, so be patient. This is also an excellent time to finger-press in any pleats.
Now that your costume is clean, DON'T store it in plastic, especially not if it's damp! Use a padded hanger for lightweight costumes. In fact, most folk costumes were traditionally folded and stored in chests. See if you can find someone to show you how the costume should be folded. When you wear your costume, use an old T-shirt or garment shields underneath and ALWAYS wash or clean your costume after wearing it—even though it may not smell bad, contact with your body oils and salts means it needs cleaning!
Wendi Kiss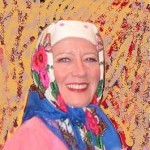 first encountered Eastern European music, dance and costume quite some time ago and has never looked back. A former AVAZ member and group costume director, and one of the early members of Zhena Women's Choir, she is currently a member and costume director of Planina Songs of Eastern Europe, Storm Mountain Folk Dancers (retired, but still costume director) and the Loveland Choral Society.
Wendi is editor of Kef Times' Eastern European Threads. If you have an idea for an interesting textile, costume, costume tradition, etc., to be featured in a future issue, please contact her.