In this section we bring you some recent posts from the EEFC's listserv—one entertaining and two practical.
The listserv is a discussion list where subscribers post and discuss items of interest. It has a searchable archive going back to 1993 (available to anyone) and has been overseen by list angels Noel Kropf and Emerson Hawley for most of that time. (Click here for the archive search page.)
Topics range from finding lyrics to sharing music and dance videos, publicizing events in your local area, scholarly discussion on ethnomusicology topics, travel tips, practical matters such as gajda maintenance, and much more.
Not everyone in our community subscribes to the listserv, and until now there hasn't been an easy way to share the wealth to be found there with non-subscribers both within and outside our community.
In future issues, we plan to include some older treasures from the archive. But we need your help. If you can think of a memorable listserv discussion you enjoyed that might be of interest to Kef Times readers, please drop us a note referencing the archived post.
Or . . . volunteer to go through a year's worth of archived posts and see what you turn up of interest from that year—say, 1997. Or 2001. Your choice. (Let us know so we don't have multiple people spending time digging through the same year.)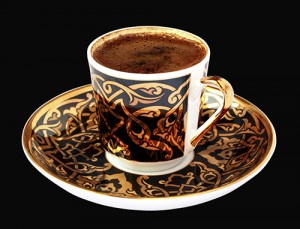 As a child, I grew up in a Russian Orthodox parish [in the U.S.] where many of the parishioners were deformed by WW I, the Stalin terror or WW II . . . eyes, parts of faces, missing body parts, that sort of thing. In many cases combined with the attendant psychiatry as well . . .
When I first became aware that the Americans had come up with decaffeinated coffee, this news came to me via the parish in the form that it was roundly judged to be "a communist plot to weaken America."
It took me a few years to drill down to the reason for this view:
Coffee was considered to be the devil's drink . . . barbarian . . . nothing like Russian tea. Pilgrims were occasionally scandalized, in going to Greek monasteries, to be offered this brew. However, during the WW I disaster, Russian troops frequently found themselves without medicine. The nurses and doctors quickly discovered that really strong coffee could keep some of the wounded from going into shock and dying. Hence, among the first two or three waves of the Russian emigration, coffee was considered a somewhat beneficial medicinal drink to strengthen the constitution, even though it had a dodgy foreign past.
This post appeared on the EEFC listserv on Mon, September 1, 2014, and is reprinted here with permission from the author. Alexander Eppler, a multi-instrumentalist who has taught kaval at the EEFC Balkan Music & Dance Workshops, is a flute maker in Seattle.
Just thought I'd pass along this notice I got from Smithsonian Folkways in Washington, DC. . . . and you can download the liner notes . . . hurray!
The Smithsonian Folkways reissue of two albums per week from the UNESCO Collection of Traditional Music continues! Read the latest guest blog posts, and check back weekly to explore musical traditions from around the world. Click here to find out more.
On September 19, Larry added the following comment for Kef Times:
The recordings were made in 1983 with the cooperation of both Balkanton and Bulgarian National Radio and most tunes were probably not released previously. The original liner notes (in English and French) are included as a PDF with the CD, or they can be downloaded here.
You can also use Smithsonian Folkways' search engine to find other music of interest.
This post appeared on the EEFC listserv on Thursday, Sept. 11, 2014, and is reprinted here with permission from the author. Larry Weiner is a dance teacher and tapan player in Washington D.C. You can read an interview with him in the Fall/Winter 2001-02 Kef Times.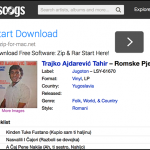 [In response to a post from Dean Brown, who recently tracked down a particular Romani tune taught by Carol Silverman at an EEFC workshop by finding the entire 1982 Jugoton album on YouTube.]
Rachel writes:
When I'm looking for song credits I have had great luck using the site discogs.com. You can find the Jugoton Trajko Ajdarević Tahir LP listed and pictured there. (Title: Romske Pjesme: Ajde amenca, e bahtale Romenca). Mustafa Ismailović is indeed listed as the composer of "Na kelav, na gilavav." Unfortunately the album is minimally cataloged here, but you can read the verso of the album cover from the photo and find the track credits.
The cool thing about Discogs is that you can sign on to enter albums yourself. If you've got the time and energy to do this kind of cataloging so many people can benefit! I bought the above record myself years ago at the Zagreb Jugoton store. Maybe someday I'll pull it out from storage and compose a better Discogs entry.
Rachel M.
P.S. I also like being able to pull album cover images from the Discogs entries to use for my iTunes collection.
This post appeared on the EEFC listserv on Thursday, Sept. 11, 2014, as part of a conversation started by Dean Brown and is reprinted here with permission from the author. Rachel MacFarlane is the EEFC's Workshop Manager and production manager of Kef Times.