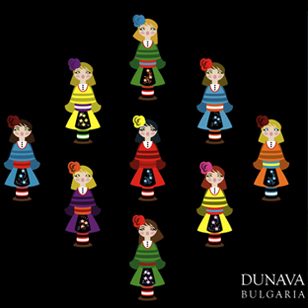 Dunava is a Seattle-based Balkan women's vocal ensemble, founded in 2005. This CD features (obviously) a variety of Bulgarian songs—arranged and traditional, instrumental and a cappella. Bulgarian folk songs are at once beautiful, haunting and captivating. They speak of hardships in life and love, but can also be flirty and lighthearted.
This compilation has it all—complex rhythms, close harmonies and that unique Bulgarian vocal sound. Several of these songs were learned at the EEFC Balkan Music & Dance Workshops in Mendocino.
The CD is for sale directly through the CDs page on the Dunava website. Preview and online download are available at CD Baby.