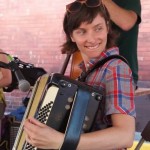 Location: Saugerties, N.Y.
Occupation: High school English teacher.
Connection to Balkan music/dance: Before I moved to the Hudson Valley this summer, I played in Ahavaraba, a Buffalo-based klezmer band. We added some Balkan tunes to our repertoire, but I knew that I was just scraping the tip of the iceberg. I had heard about EEFC's Iroquois Springs Balkan camp, and it seemed like an ideal way to immerse myself in learning about the many styles of Balkan music. Since I also found out I'd actually be moving to the Hudson Valley, camp seemed like the perfect place to make some new musical connections. I met so many great people through camp, including some folks in my area that I have started to play with weekly as part of a Balkan music club based at Bard College. I plan to keep playing and learning about Balkan music, and I hope to be in a band someday soon.
Number of times at Balkan camp: This was my first time at camp, and it most certainly will not be my last!
Studied at camp: I took four different classes each day at camp: accordion lessons and Albanian ensemble with Raif Hyseni, and accordion lessons and ornamentation class with Kalin Kirilov. I also participated in Mavrothi Kontanis's Greek singing class a few times! It was immediately apparent that at Balkan camp, you are learning from the best of the best—people who truly live and breathe the type of music they are teaching. I found all the teachers to be very generous with their time and talents. What I learned from them, and from my fellow students, made me not only a better Balkan musician, but a better musician in general.
Memorable moment at camp: I especially loved the opportunity to perform and share what we had been learning in classes with everyone. Kalin's accordion class did a surprise performance one night, playing in the dance hall as folks spun in a circle around us. Raif's Albanian ensemble performance was incredibly fun, since almost the entire camp was participating too. I got chills the first time Merita [Halili]'s beautiful Albanian singing class added their voices to this ensemble.
Balkan camp is a total immersion into music that goes far beyond what I learned in classes. Walking on the winding paths, I would hear the sounds of gajdas and zurlas off in the woods somewhere, tapans echoing from an outdoor classroom, teenagers playing ukuleles on a porch, and people practicing their instruments all over the place. The dance hall is the center of camp life after dinner, and it is filled with lively bands, singing and dancing every night. Then the fun continues at kafana until the wee hours of the morning.
Beyond the learning opportunities and musical experiences, I quickly discovered that the people at camp are fantastic. Whether newcomers or longtime participants, people were open-minded, curious, kind and passionate. I was instantly welcomed as part of the community by cabin-mates, classmates, dancers and teachers. I can't wait to come back to camp next year to be part of it again.