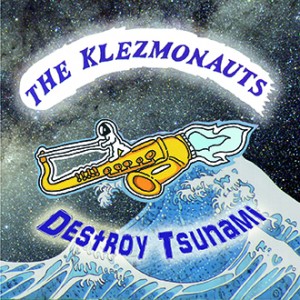 This is a live release from Eugene, Oregon's one and only klezmer band. It's already been called Indo-Afro-Peruvian-klezmer fusion. Sometimes contemplative, other times a shout to get up and dance, The Klezmonauts' music holds no allegiance to any single approach; instead, they freely toss their individual influences into the mix. Fretless electric bass and percussion hold together intricate melodies that weave dreamy scenes that conjure up life in the old shtetls of Europe with a modern fusion of world instrumentation.
Catchy original and traditional klezmer with world, jazz musical influences; clarinet, violin, mandolin, electric bass, cajon, doumbek, sitar and sarod. Members include Chip Cohen, Mike Curtis, Michael Rubinstein, Jeremy Wegner and Ken Sokolov.
Available at CDBaby.